100 HOUR YOGA THERAPY TTC
Your 100 Hour Yoga Therapy TTC involves a variety of practices including asanas, breathing exercies and meditations, in order to improve a health condition or ease a natural process (like pregnancy).
It is a holistic method of healing that incorporates all facets of the body and mind in order to promote general well being.
Yoga Therapy targets individuals on a case-by-case basis, working with the knowledge that every body is different.
Over the course of this 100 hour program you will be introduced to the key components of yoga therapy, and learn how to work with an individuals specific requirements.
100 Hour Yoga Teacher Training Course 2020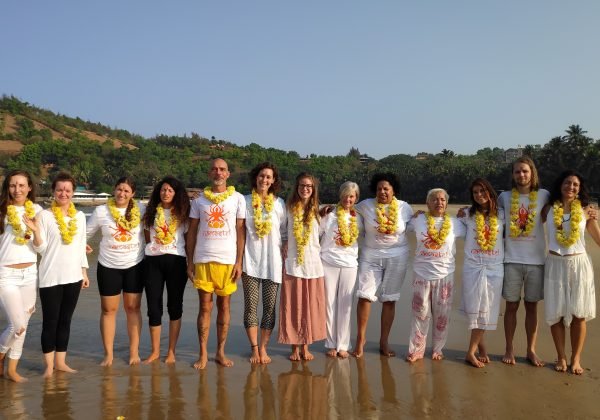 100 Hours Yoga Therapy Teacher Training Course Accommodation and Food
Our priority is to provide you with comfortable, safe and clean accommodation that is located close to the yoga shala. Rooms are either shared between two people, or private, depending on your preference. Our simple, cosy rooms are the perfect respite for rest and relaxation. Step out of your door straight into nature, and fall asleep with the sound of the ocean, or trees blowing in the breeze. Warm, salty breeze from the ocean or the fresh air with its mountain energy will fill your soul with happiness and calm.
We provide 3 healthy, energy-boosting meals per day, from Monday to Saturday. Sunday is a holiday for staff and students and we encourage you to try some of the delicious food on offer in the surrounding area. Our kitchen staff pride themselves on their local, fresh, seasonally-appropriate ingredients. We aim to give you all the energy you need for this intensive time. Let us nourish your soul and fill your body with prana-supporting meals!
100 Hours Yoga Therapy Teacher Training Course Daily Schedule
Here you can find a sample schedule to give you an idea of how you'll be spending your time here at Shree Hari Yoga. You will be involved in your studies and practice from 06:30am to 17:30pm, Monday to Friday. Saturday is a half day of classes and Sunday is a day of rest for students and teachers.
06:30am – 07:30am Meditation/Pranayama
07:30am – 09:00am Morning asana practice (Hatha yoga/Vinyasa yoga)
09:00am – 10:00am Breakfast
10:00am – 12:00pm Theory classes (mantra/anatomy/philosophy)
12:00pm – 13:00pm Lunch
13:00pm – 14:00pm Theory classes (mantra/anatomy/philosophy)
14:00pm – 16:00pm Self study
16:00pm – 17:30pm Afternoon asana practice (Ashtanga primary series)
17:30pm – 19:00pm Free time (occasional optional activities like workshops/movies)
19:00pm – 20:00pm Dinner
*Please note that this is only a sample schedule and timings are subject to change
100 Hours Yoga Therapy Teacher Training Course Outline
Modules on the 100 Hour Yoga Therapy Teacher Training Course include:
Daily asana practice (multi style practice offered including Ashtanga, Vinyasa and Hatha)

Daily meditation/pranayama practice

Yoga Philosophy and history

Anatomy and Physiology
Practical workshops
Teaching methodology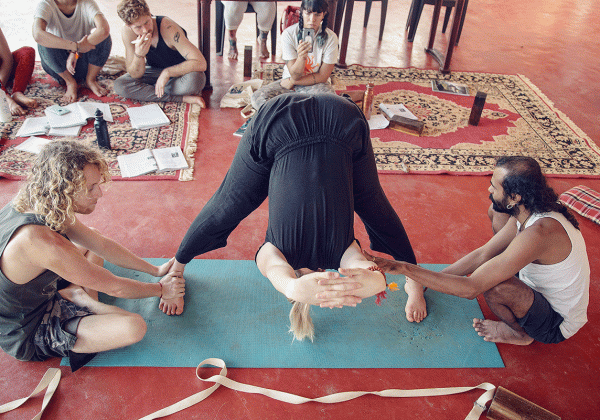 100 Hours Yoga Therapy Teacher Training Course Check-in & Check-out
Please feel free to check-in any time from 10 am. The day is dedicated for you to settle in. We will hold an introduction and orientation opening ceremony for your information, followed by a welcome dinner from 5:30 pm onwards.
On the last day, we will hold a closing ceremony before your departure, where you will get your certificates. You have time to prepare everything to leave on this day. We welcome any feedback at the end. Check-out time is 1 pm, but you may join activities throughout the day as desired. We will hold your belongings safely.
For more information please feel free to contact us and we'll be happy to assist you!
Who can join?
Anyone is welcome onto the 100 hour Yoga Therapy Teacher Training Course. It is useful if you have some prior asana/meditation practice, but it is not a requirement.
Karma Yoga (selfless service)
In the weekdays you will be engaged in voluntary karma yoga. This will be a short time either before or after classes. Karma Yoga, the Yoga of selfless action, will help you to learn and practice yoga holistically.
Summary
Reviwer
Review date
Author Rating