In the 100 hour yoga teacher training, we try to find a balance between two specialized courses having opposite forces "Yang and Yin". The dynamic, powerful practice of vinyasa is known to be very 'yang'; it's fiery and sweaty and leaves you feeling energized. The softer practice of yin reflects the opposite quality; soft and nurturing, deep and meditative.
We came out with a unique course of 100 hour Vinyasa and Yin yoga teacher training under the sub category of 100 hour yoga teacher training. This aims to find the balance among both qualities instead of achieving one. Balance is a key concept for living a harmoniously and peacefully, and we believe the marriage of these two styles of yoga can assist you in finding balance elsewhere in your life.
100 Hours Vinyasa and Yin Yoga Teacher Training Courses 2019
100 hour Vinyasa and Yin Yoga Teacher Training Courses 2020
100 Hours Vinyasa and Yin Yoga Teacher Training Courses Accommodation and Food
Our priority is to provide you with comfortable, safe and clean accommodation that is located close to the yoga shala. Rooms are either shared between two people, or private, depending on your preference. Our simple, cosy rooms are the perfect respite for rest and relaxation. Step out of your door straight into nature, and fall asleep with the sound of the ocean, or trees blowing in the breeze. Warm, salty breeze from the ocean or the fresh air with its mountain energy will fill your soul with happiness and calm.
We provide 3 healthy, energy-boosting meals per day, from Monday to Saturday. Sunday is a holiday for staff and students and we encourage you to try some of the delicious food on offer in the surrounding area. Our kitchen staff pride themselves on their local, fresh, seasonally-appropriate ingredients. We aim to give you all the energy you need for this intensive time. Let us nourish your soul and fill your body with prana-supporting meals!
100 Hours Vinyasa and Yin Yoga Teacher Training CoursesDaily Schedule
Classes run from 06:30 am to about 17:30 pm daily. Your time will be spent between asana, theoretical and practical classes. Please note that this is a sample schedule and timings are subject to change.
| | |
| --- | --- |
| 06:30am – 07:30am | Meditation/Pranayama |
| 07:30am – 09:00am | Yin Yoga |
| 09:00am – 10:00am | Breakfast |
| 10:00am – 12:00pm | Theory (anatomy, philosophy etc) |
| 12:00pm – 13:00pm | Lunch |
| 13:00pm – 14:30pm | Art of Teaching (alignment, adjustments, sequencing) |
| 14:30pm – 16:00pm | Free Time |
| 16:00pm – 17:30pm | Vinyasa Yoga |
| 19:00pm – 20:00pm | Dinner |
Saturday you will have only half day classes and Sundays are your days off. Use this time to relax, study and enjoy your surroundings.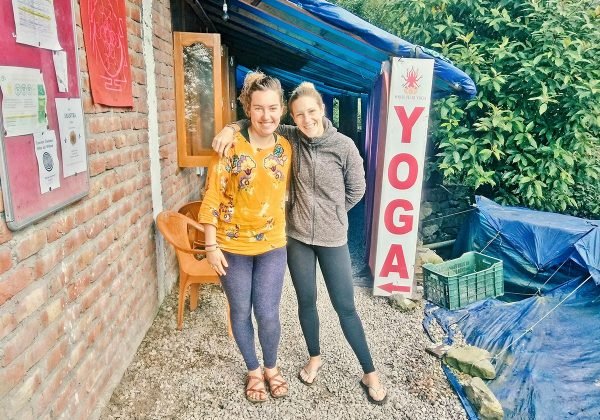 100 Hours Vinyasa and Yin Yoga Teacher Training Courses Course Outline
Daily pranayama/meditation practice

2 asana classes per day (yin and vinyasa)

Philosophy and history of yin

A look at Patanjali's Yoga Sutras and the 8 limbs in relation to Vinyasa Yoga
Western anatomy including a look at muscles, joints, connective tissues and fascia
Eastern anatomy including meridians, nadis and the chakra system
Vinyasa and Yin class sequencing, adjustments and assists
Daily teaching practice
Alignment of all 24 yin asanas, plus extras
Alignment of all key vinyasa asanas
A look at how these two styles link together, in theory, and in practice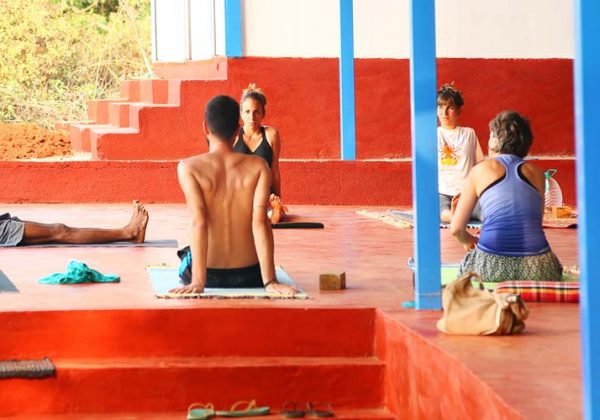 100 Hours Vinyasa and Yin Yoga Teacher Training Courses Check-in & Check-out
Please feel free to check-in any time from 10 am. The day is dedicated for you to settle in. We will hold an introduction and orientation opening ceremony for your information, followed by a welcome dinner from 5:30 pm onwards.
On the last day, we will hold a closing ceremony before your departure, where you will get your certificates. You have time to prepare everything to leave on this day. We welcome any feedback at the end. Check-out time is 1 pm, but you may join activities throughout the day as desired. We will hold your belongings safely.
For more information please feel free to contact us and we'll be happy to assist you!
Who can join?
This course is open to anyone with a desire to further their practice and knowledge in these two developing styles of yoga. It's ideal for those who have done a previous training, and are looking to expand and develop their knowledge. Our 100 hour programs are also suitable for those who are not yet ready for the intensity or commitment of a 200 hour training but still want the opportunity to broaden their knowledge base.
Karma Yoga (selfless service)
In the weekdays you will be engaged in voluntary karma yoga. This will be a short time either before or after classes. Karma Yoga, the Yoga of selfless action, will help you to learn and practice yoga holistically.