YOGA TEACHER TRAINING IN RISHIKESH, INDIA
Never stop fighting until you arrive at your destined place – that is, the unique you. Have an aim in life, continuously acquire knowledge, work hard, and have the perseverance to realise the great life. – A. P. J. Abdul Kalam
Why Rishikesh?
Rishikesh is a beautiful holy city at the foothills of the Himalayan mountain range. The famous Ganga river flows through it, providing the city with a deeply spiritual ambience. Yoga Teacher Training Courses in Rishikesh is known as the yoga capital of the world, and it's easy to see why! There are many ashrams, yoga schools and meditation centres, and many seekers and sadhus occupy the streets. It's a pilgrimage town with beautiful nature and a deep spiritual connection – what better place to immerse yourself deep into yogic studies.
Activities in the Rishikesh area:
Due to its location on the river and proximity to nature, Rishikesh has far more to it than its multitude of yoga offerings. Waterfalls, treks and white water rafting await you here, not to mention plenty of delicious restaurants, cafes and chill out spots. Here are some of the activities you might like to partake in during your free time:
Ganga Aarti (ritual of worshipping the Ganges)
Visit temples and ashrams
Visit nearby waterfalls
Goa Beach (no, not an actual Goa beach! It's a place on the river bank frequented by people who come to sit, read, meditate, or chant)
Shopping at local markets
Hiking/walking
Rishikesh is also renowned for adventure sports. A few of the main activities offered are:
Bungee jumping
Mountain biking
White water rafting
Kayaking
Rock climbing
Yoga Teacher Training Courses in Rishikesh Accommodation
Shree Hari Yoga school in Rishikesh is home to the Parvati suits, which is situated in Mandrem and offers you the best place for Yoga. Enjoy sunset views from the roof in the evening or at the beach!
All students apartments are equipped with:
ॐ  Double bed, a cupboard, table and chair
ॐ  Cooking facility
ॐ  Clean bathroom with  shower & toilet
ॐ  Sitting space with table & chair in front of the room on the balcony
ॐ  Clothesline for your laundry
ॐ   Free WiFi
All offered accommodation is equipped with everything you need for your Yoga Teacher Training Courses in Rishikesh.  All rooms are spacious & comfortable, beautiful, safe & clean. They are only a few steps away from the Yoga Shala and around 150m from beautiful Mandrem beach.
Apartments can either be shared with 2 persons or booked as a single room. The rooms are perfect for rest and relaxation. The sheets are crisp and clean. Sink into the comfortable mattress. Ahhh!
When you open your door you'll see paradise.  Coconut palm trees blowing in the breeze and Indian women in colourful Saris. The warm, salty breeze from the ocean will fill your soul with calmness!
Yoga Teacher Training Courses in Rishikesh Food
ॐ  The diet is healthy and energy-boosting. It is specially prepared for our Yoga students so that you can enjoy your magical time in Rishikesh and focus on the training.
ॐ  We serve you 3 vegetarian meals per day during studying time from Monday to Saturday. We prepare our meals always with local fresh cooked vegetables. Enjoy daily fresh, seasonally-appropriate ingredients. A yogic selection based on fruits, and vegetables, traditional Indian Thali and warming soups.
ॐ  Our food will give you the energy you need for the day. Let us nourish your soul and fill your body with prana-supporting meals.
Let us nourish your soul and fill your body with prana-supporting meals!
After your Yoga practice or course enjoy the surroundings of Rishikesh!
Yoga Teacher Training Courses in Rishikesh Activities in the Rishikesh area:
From last so many decades, Rishikesh is famous for pilgrimage to find moral, faith and spiritual significance. It is a place of several combination of thing that combine nature with your interest. Now, Yoga Teacher Training Courses in Rishikesh has been known for Yoga capital of the world. It is the perfect place for people seeking River rafting, Bungee Jumping, Mountain biking. Waterfall trekking, Giant swing. Cliff jumping. Rapids. Rappelling. It has the adventurous experience with spiritual and yoga art.
ॐ Rent a scooter and explore
ॐ Surfing around Various Ghats
ॐ Banana ride and bumper ride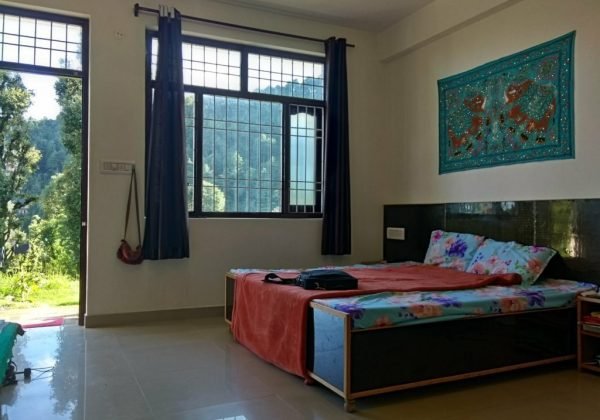 Shree Hari Yoga Center At Rishikesh
How to reach
ॐ   Air:
Approximately 35 kilometers away from Rishikesh the nearset airport is Jolly Grant airport at Dehradun.
Frequent daily flights are available of popular carriers like Air India, Spice Jet and Jet Airways from New Delhi.
For Rishikesh, there are also frequent popular flights available from Lucknow to Dehradun. After reaching at Dehradun airport you can opt for bus service or taxi which is easily available to reach Rishikesh. This will take a short period of around half an hour.
You can also choose the second nearest international airport New Delhi to Rishikesh which is well connected with interantional cities.
ॐ   Train:
From Rishikesh the nearest railhead is in Haridwar which is approximately 25 kilometres away.
Haridwar, is linked to major Indian cities such as Mumbai, Delhi, Lucknow, Kolkata and Varanasi.
Some of the popular trains are Shatabadi Express, Jan Shatabdi, AC Special Express and Mussoorie Express. If you are travelling to Rishikesh, we are advising upto Haridwar travel by train and then either take a bus or hire a taxi to Rishikesh from Haridwar. To reach Rishikesh bus will take about 45 minutes and taxi will reach you in about half an hour. 
ॐ   Road:
Being a popular tourist destination, Rishikesh has a good network of buses connecting it with important places such as Haridwar, Dehradun and New Delhi. Everyday buses depart for Yoga Teacher Training Courses is Rishikesh from Kashmere Gate ISBT, New Delhi in the morning and late evenings. As per your convinence, you can choose a regular, deluxe or a luxurious coach.
If you are adventurous, you could also do a trecking to our school. Maybe some small horses or donkeys will even help you to cary your luggage. 😀
200 Hour RYT Course 2020
200 Hour RYT Course 2021